Summary Headlines – Please Read!

Upcoming Events
Thurs Nov. 17, 7:00 PM, Concert Hall: Chamber Music Concert

All DSAO students are required to attend
CLICK HERE to purchase tickets as the date approaches.
6:15p: Students should be present, in concert attire and tuning.  Please see handbook for information.
Thank you to all who have signed up as volunteer concession managers. If interested in volunteering for subsequent concerts, please CLICK HERE to sign up.

Thurs Dec 8, 10:30a, U C  Anschutz Medical Center: High School Concert for patients and staff
The full performance schedule is at the bottom of the newsletter.
New and returning students, make sure to review the concert requirements (attire, attendance, etc.) in the student handbook.
Homework Assignments
Reminder: High School Assignment Due Today at 9p: Please listen to both Atom Hearts Club Suites by Yoshimatsu. Send an email to Dr. L:  Enrique_Lasansky@dpsk12.org  stating your preference for which suite to perform or select movements from each suite that would work well in a concert.Please justify your choices in terms of musical and technical considerations.  Your reply need not be more than one paragraph.
This assignment is worth 25 pts.
High School and Middle School
Reminder: Theta homework due October 17th for high school and middle school
Please visit http://www.dsaorchestra.org for full assignment instructions.
 Hover over "Students" and click appropriate Assignments page.  Orchestral music is also found at this location.  Please note that the new password is 
Debussy16
.
---

High School Orchestra Events Coming Up!
From Dr: Lasansky:
1. DSA High School Orchestra has been invited to play a concert for patients and staff  at U C  Anschutz Medical Center  12/8/16 at 10:30 am.  We will have lunch at Stapleton after the concert. We need three chaperones to accompany us.
2. DSA High School Orchestra has also been selected  to play at the National Association of School Board Members (NASBM) at the Denver Convention Center on March 25-26. The exact time of the concert will be known in the next few weeks. Please check to see if you have any vacation plans or conflicts  during this period and let me know asap: enrique_lasansky@dpsk12.org.  This concert will be  required of all high school students in order for the event to be successful.
For information on the conference please go to: https://www.nsba.org/conference
Thanks,
Dr. L
---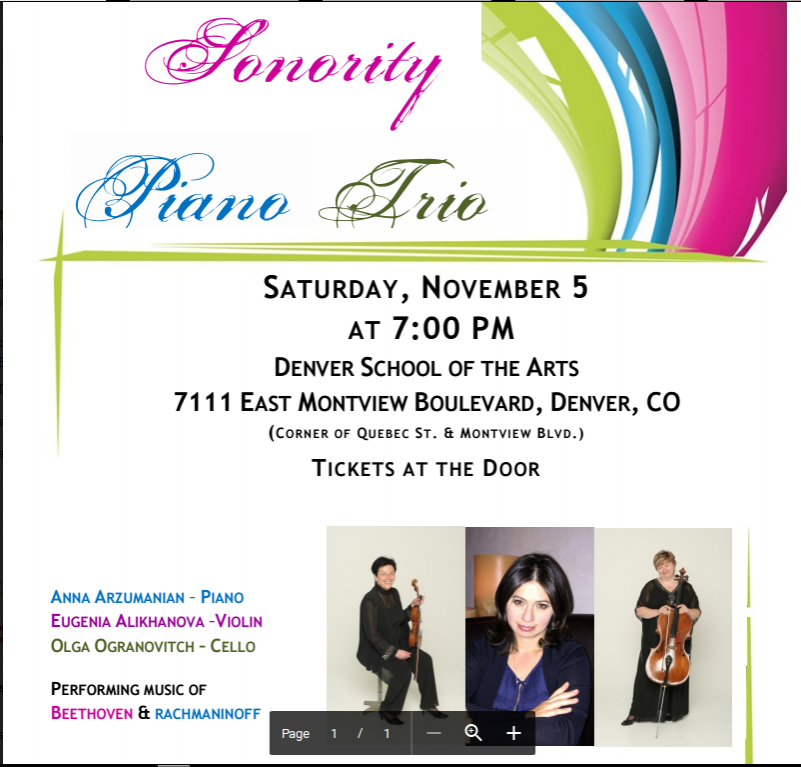 Members of the Moscow Quartet, joined by Anna Arzumanian, are so happy to invite you to attend to the concert of the Sonority Trio:
Anna Arzumanian (piano)
Eugenia Alikhanova (violin)
Olga Ogranovitch (cello)
Tickets at the door: cash or check
Info:
303.766.8925
SonorityTrio@Gmail.com
Program:
Beethoven– Piano Trio in B-flat major, Op.97 "Archduke"
*****************************************************************
Rachmaninoff – Trio élégiaque No.2 in D minor, Op.9

Master Mentor/Visiting Artist Program
As we begin the school year, we wanted to remind you about the $350 fee,  per family,  for our Master Mentors program.  This is an expectation for all DSAO families.
For all of our new members of DSAO: we use this money throughout the year  to bring in a whole team of outstanding musicians to work with DSAO students. These mentors work with individual sections, coach chamber music, and sometimes work one on one with students. This  aspect of the  DSAO program is one of the main things that set us apart from other school orchestra programs and help us achieve the excellence we are accustomed to.
Contributions can be made by check or through the DSA Friends Foundation at www.dsafriends.org.  If you can't make the payment all at once, please do so in monthly installments.   Please make checks payable to DSA Friends Foundation, and put "Orchestra family contribution" or "master mentor" in the memo line.
This is also a fantastic way for family and friends to support your student! Please pass along the dsafriends.org website link to those you know are interested in supporting our programs.
For further information, please visit the OFA Fundraising website.
---

Investing in DSAO

Attention Business Owners – Friends and Family!
Welcome to the new school year! As you head back to school, please consider promoting your business (or promoting your friend's business) in this year's DSAO concert programs. (CLICK HERE for brochure). Advertising money helps fund the orchestra program, and has the added bonus of helping our families and friends promote their businesses!
Ad Submittals: It's incredibly easy to submit advertising artwork/logos/business cards via email to Mark Herlinger, our advertising and program graphic designer. If you need assistance designing your advertisement, Mark will help you with that too! For questions about graphic guidelines to submit advertisements, please contact markherlinger@gmail.com.
Payment: Via check – Once payment is received (please turn in checks to Tracy Holt, DSA Arts Secretary in the Front Office) the advertisement will be placed in the program which is printed for all major orchestra concerts throughout the year.

Buy groceries, support DSAO
Make sure you purchase a reloadable King Soopers card! It's simple to get started with a $2.50 card.  Each time you reload the card, DSAO gets 5% back! No hidden costs!  Everyone buys groceries, so it a very easy way for friends and family to contribute as well. You may email Carol Fennell for information about purchasing a card, or pick up a card at the next concert's concession table .
DSA is collecting Boxtops!
DSA receives free money for each box top turned in.  Please group the box tops in a bag or envelope, and mark them with "Orchestra" so that the funds will come to us.  The collection box is located in the main office.
Call for Volunteers
Congratulations to our students and Dr. L for such a wonderful Fall concert.  We volunteer our time as members of the DSA Orchestra family because of our concerts and the work required to help our kids grow in their understanding of, and passion for, music and art more generally.It takes a village! Get to know your fellow DSAO parents and sign up to help out! Just a little time from you results in a MAJOR win for the DSAO!
Today, we are in particular need of volunteers for our Winter Silent Auction Coordination Team.
---
Welcome Melinda Kunzler, DSAO Family Association Volunteer Coordinator
The DSAO Family Association welcomes Melinda Kunzler as our new Volunteer Coordinator! She is responsible for ensuring all of the sign-ups and volunteer requests are up to date and she keeps an eye on where we need support. Our parent volunteers leading concessions, ushering, potlucks, the Winter Silent Auction, and other FUN-draising activities should first contact Melinda for any questions about adding sign-ups or sending out bulletins related to volunteer requests. You can reach Melinda at melinda_kunzler@email.com.
---
Volunteer Positions that help raise money for DSAO
And don't take a lot of time!
Please go to this link to help out! http://www.signupgenius.com/go/10c054ba9a92aa5f94-201620171
We need support for the following:
Winter Silent Auction Coordination Team
This is a wonderful event that is really fun to plan and set up, and lots of fun to watch in action at our first Winter concert in December!  Be part of the team! This team, led by Carol Fennell, will help organize our fun Winter Concert Silent Auction event. Please click on this link for the Winter Auction coordinator sign up:  http://www.signupgenius.com/go/10c054ba9a92aa5f94-201620171
Please see below for a full description of how all parents can contribute to our auction.
DSAO Merchandise Sales
We would like 2 volunteers who can help sell DSAO merchandise at our Concessions table. These volunteers will track inventory as they sell, and will turn in money to Beki Pineda in the Box Office at the end of the night. This is an easy job, and fun to sell DSAO spirit!

Second Annual Winter Orchestra Silent Auction coming…..
Saturday, December 10th
before and during the concert intermission
Do you have a special talent?  Does everyone rave about your homemade cheesecake?  Do you have memorabilia stuffed in a box in some closet collecting dust?  Do you own a condo that you could share for a weekend, or drive Uber, make art or tutor?
Consider donating your items, time (adults or students) and talent for our Winter Silent Auction. A few ideas might be…..cookie baking and decorating with kids, jewelry making workshop, cooking a meal, cooking lesson, jewelry handmade or jewelry no longer needed, artwork, sports memorabilia, babysitting, massage, give a lesson or mentor a student. Ask the concert hall, restaurant you frequent or the coffee shop you swing by each morning to donate a little something for our kids.   Items can be purchased, found or donated in the themes below (suggestions only) and will be put into baskets for the auction.
*We are asking that each family donate to our Orchestra Silent Auction.
Basket Themes by grades (You do NOT have to stick to these themes; these are to generate ideas!)
6th grade- Food/Restaurant- Fast food, slow food, cooking, gift certificates
7th grade- Movie night/ shopping
8th grade- Lottery
9th grade- Fitness, outdoor, indoor, spa
10th grade- It's a wrap (holiday items, wrapping supplies, gift ideas)
11th grade- Travel
12th grade- Gardening
*All proceeds go directly back to the orchestra department to fund the Master Mentor program.
*We are also looking for any baskets or bags that you are no longer using!  ContactCarolfennellart@gmail.com for info.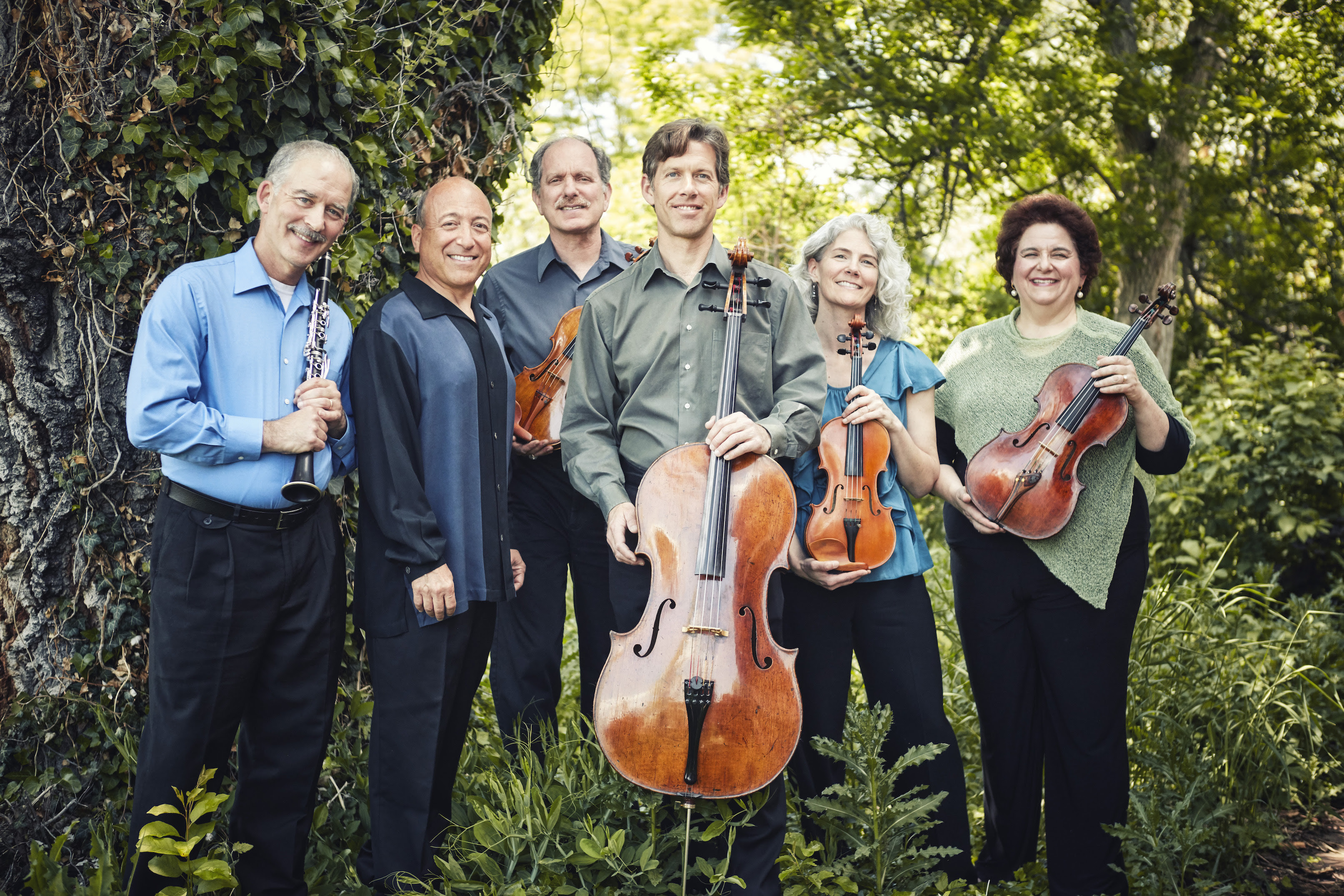 Colorado Chamber Players:
Jewish Sounds of Soviet Russia
The award-winning Colorado Chamber Players will be performing on the prestigious JAAMM Festival series this year at the Mizel Arts and Culture Center, 11/16/16, 7 p.m.,  and they have generously offered 50 tickets to the DSA community for $10 each.  DSA students, faculty and staff can use the code DSA10 after September 1st,  by calling the Mizel box office at 303-316-6360 or by going online at:  http://maccjcc.org/. Tickets are usually $18/$20, this is a substantial discount for the DSA community.
Elaine Wolf Theatre
$20 Adult, $18 Student/Senior (non-discount price)
Jewish and Yiddish music have always found their way into Russian music. The role of Jewish composers in Russia changed dramatically after the rise of Stalin and after World War II.  While Jewish music was officially banned (or declared non-existent) after World War II, many composers continued to incorporate Jewish themes into their pieces.
Russian composers Dmitri Shostakovich and Sergei Prokofiev and Jewish composers Mieczyslaw Weinberg and Mikhail Gnesin all managed to weave Ashkenazi Jewish folk music into their compositions, in spite of anti-Semitic repression under Stalin's rule.  This evening's program explores specific pieces with Jewish elements by these composers.  Colorado Chamber Players musicians offer spoken program notes.
Program:
Overture on Hebrew Themes, Sergei Prokofiev
Piano Quintet, op. 11, "Requiem", Mikhail Gnesin
Excerpt, Three Pieces for Solo Clarinet, Igor Stravinsky
Intermission
Excerpt from String Quartet no. 4, op. 83, Dmitri Shostakovich
Piano Quintet, op.18, Mieczyslaw Weinberg
---

Student Volunteer Opportunities with El Sistema
From the website: "Almost 40 years ago, Dr. José Antonio Abreu gathered 11 children in a parking garage in Carácas, Venezuela, to play music—and El Sistema was born. The El Sistema model, using ensemble music to transform the lives of at-risk youth and communities, has now become a world-wide phenomenon."
Regular El Sistema after school programming will meet at the following times and locations beginning this Tuesday, September 6th.  This provides a wonderful opportunity for orchestra students and parents alike to help spread the love and learning of music through volunteer time.   Parents or students interested in volunteering can contact El Sistema at volunteer@elsistemacolorado.org.
Garden Place Academy:
M-W 3:30-5:30, Th 1-3
Swansea Elementary School:
M-Th 3-4:30
Bruce Randolph Middle/High:
M-Th 2:30-5:30
2016 Young Musicians Foundation of Colorado Auditions
Fact Sheet
ApplicationI'm writing on behalf of the Young Musicians Foundation (YMF) of Colorado to announce the opportunity for classical musicians in Colorado between the ages of 10 and 20 to audition for a spot on the 2017/2018 YMF Artist Roster.  Please forward this email to your young musicians and any other organizations or teachers that may have students who are interested in this opportunity. 
 This is a fantastic opportunity for very talented musicians who currently aspire to a professional career in music- YMF provides funding for musical enrichment opportunities (typically $1,000- $2,000/ year depending on age) for camps/ master classes and competitions as well as annual performance opportunities with other talented young musicians in a professional setting at the Lamont School of Music at the University of Denver.  In addition, over $2,000 of prize money is awarded to top performers in the Audition process. 
 The application process consists of two parts.  An initial application and CD submission is due on November 15, 2016, from which finalists are then selected to take part in a one-day live audition the last week in December.  Attached is both the audition application and fact sheet with pertinent details of the process and requirements.  Further information is available on the YMF website:  www.youngmusiciansfoundation.org
Since its founding in 1988, YMF has supported over 120 extremely talented Colorado musicians, many of whom have gone onto achieve amazing accomplishments, whether it be soloing with the CSO, graduating from top tier musical institutions like Juilliard and Eastman, or successful careers as soloists or orchestra members.  Many former roster members have credited YMF with giving them the additional exposure and resources needed beyond their traditional training to properly prepare and excel in their professional musical pursuits.
Don't hesitate to contact me with any questions regarding the application, audition process, or YMF in general. 
Best Regards,
Brian Cornell
YMF Board Member

DSAO  SCHEDULE 2016/17
Thursday  11/17 Chamber Music Concert 7:00 PM Concert Hall
Saturday 12/10  Orchestra Concert  7:00 PM Concert Hall
Sunday 12/11 Orchestra Concert 3:00 PM Concert Hall
Saturday 1/21  Full Orchestra Concert 7:00pm Concert Hall
Sunday 1/22   Full Orchestra Concert 3:00pm Concert Hall
Friday March 3 7p  L'Histoire du Soldat Concert Hall
Saturday March 4 3p and 7p   L'Histoire du Soldat  Concert Hall
Friday 3/10 Orchestra  Concert 7:00 PM Concert Hall
Saturday  3/11 Orchestra Concert 3:00 PM Concert Hall
Friday 4/28    Chamber Concert 7:00 PM  Concert Hall
Friday  5/12     Disney/Pops Orchestra  Concert 7:00 PM  Concert Hall
Sat.     5/13   Disney/Pops Orchestra Concert  7:00 PM  Concert Hall
Sunday 5/14   Disney/Pops Orchestra Concert  3:00 PM  Concert Hall
Complete Forms for off-campus activities
 Please note the Power of Attorney and Consent for Emergency Care forms, and a copy of the medical insurance card must be completed and turned in for each student any off-campus overnight trip/event, even those events where parents are in attendance.  The Power of Attorney form requires both parents to sign and is required to be notarized. You may find a notary at your local bank, or you may contact either Tracy Holt in the main office or Linda Vliet in the counseling office and ask if they can notarize for you.  Both parents must be present to sign if not already completed. Please date both forms for the entire school year so you only have to do this once.  Otherwise you have to complete both for all trips/events.  These forms are available on the DSAO website  (Click Here).  Please print, complete, have notarized and drop off in the orchestra forms box in the orchestra room.
For students who have medical conditions or who take medications (including over the counter medications), you need to contact the school nurse for the current school year forms for the trip (Please see forms link on website for these forms).  
Thank you!