Auditions

 

this week!

Sept 7

, 9a: Western States Honor Orchestra application materials deadline.

Sept. 17

: High school students required to perform at Gala Night
Business owners, or friends of business owners: advertising brochures are available!

Advertising graphics and payments due by 

September 15, 2016

, to ensure a full year's worth of advertising.

New volunteer opportunities

Please see El Sistema opportunities below
The orchestra needs a music librarian.  This could be one or several people to come in and file music for us (there's a lot!).  Please contact tyreeworld@centurylink.net if interested.
We have an extra blue cooler and some other lost and found items in the Orchestra room, please have your student take a look. We are also missing a long extension cord–if anyone accidently put it in their car please leave it in the orchestra room with a note attached. Thank you so much!

TO-DO WEEK OF SEPTEMBER 4
Sept. 6-9

: Auditions

Middle School: Same requirements as entrance auditions:  major scale, minor scale, chromatic scale, solo piece and sight reading
High School: Same as Western States (Click Here)

Sept 7

, 9a: Western States Honor Orchestra application materials deadline.

SAVE THE DATE!
 

Friday, Sept. 16

: High School Western State Auditions Due (Click Here)
 

Saturday, Sept. 17

, 4p (Gala starts at 5:30p): High school orchestra students are required to perform for the annual DSA Fall Gala.  Please arrive by 4p in concert attire.
UPCOMING EVENTS
Friday 10/7, 7:00 PM

, Concert Hall: Orchestra Concert

CLICK HERE to purchase tickets as the date approaches.

Sat. 10/8, 3:00 PM

, Concert Hall: Orchestra Concert

CLICK HERE to purchase tickets as the date approaches.

The full performance schedule is at the bottom of the newsletter.  As events get closer they will be displayed in this section.
New and returning students, make sure to review the concert requirements (attire, attendance, etc.) in the student handbook.  In addition, concessions requests will be sent as concerts approach.
HOMEWORK ASSIGNMENTS
Please visit 
http://www.dsaorchestra.org
 for full assignment instructions.  Hover over "Students" and click appropriate Assignments page.  Orchestral music is also found at this location.  Please note that the new password is 
Debussy16
.
Middle School
Assignment 1 due 9/16 Read "Fundamentals: Getting Started and Melody. Under "Courses" complete "Intro to Ear Training" . Complete 40 levels for an "A" of any of the  games  under Sound, Pitch, Scales.
High School
Assignment 1 due 9/16 Read "Fundamentals: Getting Started and Melody. Under "Courses" complete "Intro to Ear Training" . Complete 60  levels for an "A" of any of the  games  under Sound, Pitch, Scales.
Also due 9/16 for high school
Compare recordings by Mariner and Ozawa on YouTube of Respighi: Ancient Airs and Dances
---

URGENT
Western States Honor Orchestra DEADLINE
Wed 9/7 at 9a
Western States auditions are due on Sept. 16. This year you will be responsible for making your own mp3 according to the guidelines found at http://www.unco.edu/arts/music/wshof/default.html#required%20audition%20materials
Each student who auditions for Western States (WSHO) also needs to complete and sign an application form (located on the WSHO site).  Parents also need to sign these forms, and the application fee of $25 should be attached (checks should be made payable to UNC Orchestras).
WSHO application forms and fees are due to Terrie Tyree by this Wednesday, September, 7th,  9am.  Terrie will get Dr. Lasansky's & Mr. Kohut's signature and mail to WSHO as a group.  If forms are late you will be responsible for obtaining signatures and mailing.  These forms, along with other audition materials, are due to WSHO by September 16, 2016.
In addition, if off-campus forms have not been completed, please complete them as soon as possible.  Instructions are at the bottom of this email.

Auditions
I don't know many people who enjoy auditions. However they are used frequently in the performing arts world.   The good news is that the more experience you can get by taking auditions the easier the process  becomes.
I wanted to give you some advice. I'm thinking mainly of the 9th graders who are coming into Advanced Orchestra, since this may be your first time preparing orchestral excerpts (Western States material). The important thing is to make sure you have a very good concept of the piece (movement) the excerpt is taken from. You can't be very musical when you play if you don't have this knowledge. Please listen to (at least) the movement your excerpt is taken from (a bunch of times!) so you understand the mood, the tempo, and how the part "fits in".
I want to emphasize musicality as a crucial element in evaluations this year. This means playing with feeling, phrasing, dynamics, color and having some knowledge of the pieces and the composers.
Hope this helps.
Thanks,
Dr. Lasansky
---

Auditions

September 6-9
High School: Western States audition music
Middle School:
Follow the same requirements as the entrance auditions (Click Here):
A classical solo of your choice (must demonstrate technical and lyrical playing)
A major scale, a minor scale and a chromatic scale
Sight- reading
---

Master Mentor/Visiting Artist Program
As we begin the school year, we wanted to remind you about the $350 fee,  per family,  for our Master Mentors program.  This is an expectation for all DSAO families.
For all of our new members of DSAO: we use this money throughout the year  to bring in a whole team of outstanding musicians to work with DSAO students. These mentors work with individual sections, coach chamber music, and sometimes work one on one with students. This  aspect of the  DSAO program is one of the main things that set us apart from other school orchestra programs and help us achieve the excellence we are accustomed to.
Contributions can be made by check or through the DSA Friends Foundation at www.dsafriends.org.  If you can't make the payment all at once, please do so in monthly installments.   Please make checks payable to DSA Friends Foundation, and put "Orchestra family contribution" or "master mentor" in the memo line.
This is also a fantastic way for family and friends to support your student! Please pass along the dsafriends.org website link to those you know are interested in supporting our programs.
For further information, please visit the OFA Fundraising website.
---
Investing in DSAO
Attention Business Owners – Friends and Family!
Welcome to the new school year! As you head back to school, please consider promoting your business (or promoting your friend's business) in this year's DSAO concert programs. (CLICK HERE for brochure). Advertising money helps fund the orchestra program, and has the added bonus of helping our families and friends promote their businesses!
Ad Submittals: It's incredibly easy to submit advertising artwork/logos/business cards via email to Mark Herlinger, our advertising and program graphic designer. If you need assistance designing your advertisement, Mark will help you with that too! For questions about graphic guidelines to submit advertisements, please contactmarkherlinger@gmail.com.
Payment: Via check – Once payment is received (please turn in checks to Tracy Holt, DSA Arts Secretary in the Front Office) the advertisement will be placed in the program which is printed for all major orchestra concerts throughout the year.
Advertising graphics and payments due by September 15, 2016. This deadline is set to ensure business owners receive the benefit of the full year of advertising in the DSAO Concert program.
 Buy groceries, support DSAO
Make sure you purchase a reloadable King Soopers card! It's simple to get started with a $2.50 card.  Each time you reload the card, DSAO gets 5% back! Everyone buys groceries, so it a very easy way for friends and family to contribute as well. You may email Carol Fennell for information about purchasing a card.
DSA is collecting Boxtops!
DSA receives free money for each box top turned in.  Please group the box tops in a bag or envelope, and mark them with "Orchestra" so that the funds will come to us.  The collection box is located in the main office.

STUDENT VOLUNTEER OPPORTUNITIES WITH EL SISTEMA
From the website: "Almost 40 years ago, Dr. José Antonio Abreu gathered 11 children in a parking garage in Carácas, Venezuela, to play music—and El Sistema was born. The El Sistema model, using ensemble music to transform the lives of at-risk youth and communities, has now become a world-wide phenomenon."
Regular El Sistema after school programming will meet at the following times and locations beginning this Tuesday, September 6th.  This provides a wonderful opportunity for orchestra students and parents alike to help spread the love and learning of music through volunteer time.   Parents or students interested in volunteering can contact El Sistema at volunteer@elsistemacolorado.org.
Garden Place Academy:
M-W 3:30-5:30, Th 1-3
Swansea Elementary School:
M-Th 3-4:30
Bruce Randolph Middle/High:
M-Th 2:30-5:30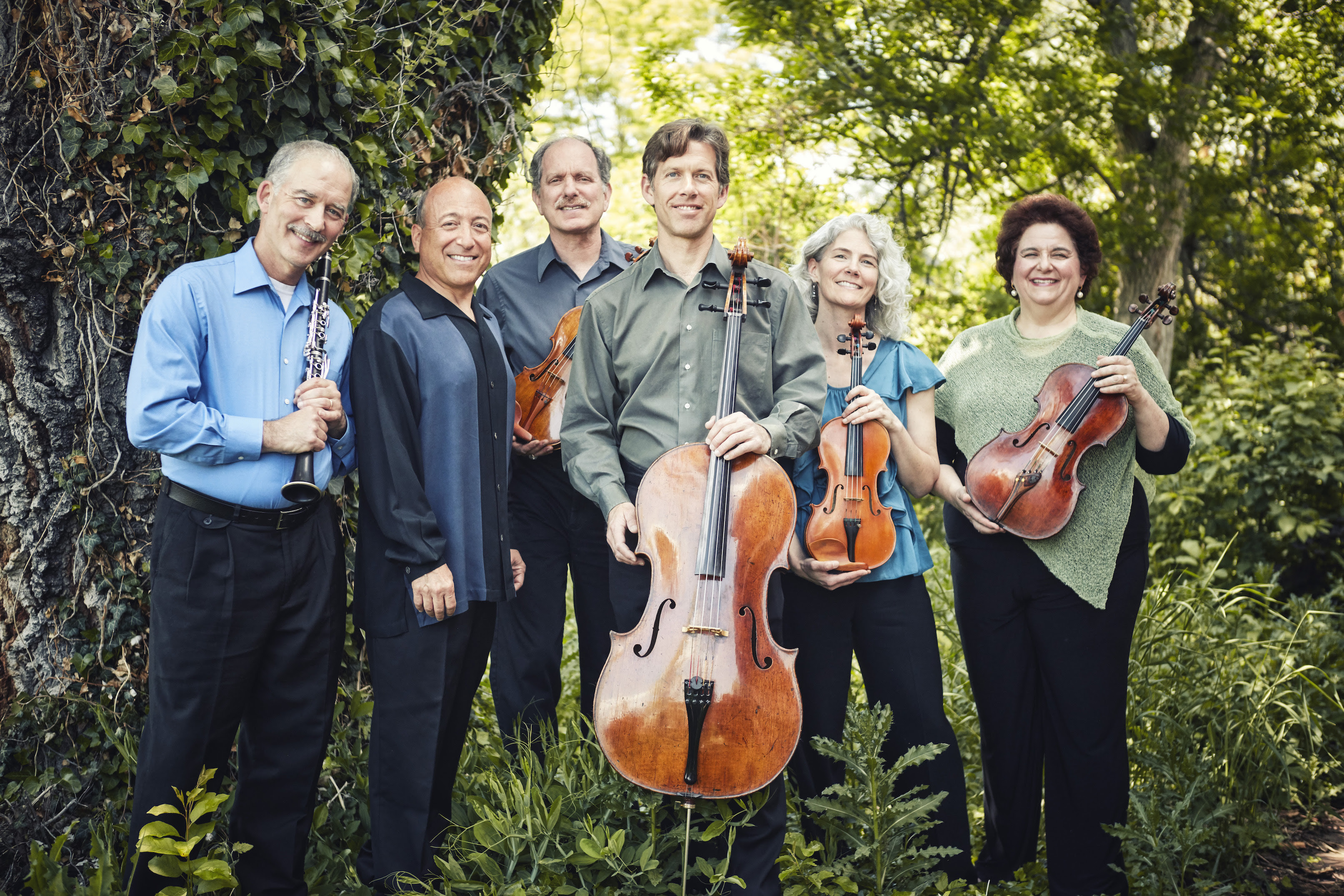 Colorado Chamber Players:
Jewish Sounds of Soviet Russia
The award-winning Colorado Chamber Players will be performing on the prestigious JAAMM Festival series this year at the Mizel Arts and Culture Center, 11/16/16, 7 p.m.,  and they have generously offered 50 tickets to the DSA community for $10 each.  DSA students, faculty and staff can use the code DSA10 after September 1st,  by calling the Mizel box office at 303-316-6360 or by going online at:  http://maccjcc.org/. Tickets are usually $18/$20, this is a substantial discount for the DSA community.
Elaine Wolf Theatre
$20 Adult, $18 Student/Senior (non-discount price)
Jewish and Yiddish music have always found their way into Russian music. The role of Jewish composers in Russia changed dramatically after the rise of Stalin and after World War II.  While Jewish music was officially banned (or declared non-existent) after World War II, many composers continued to incorporate Jewish themes into their pieces.
Russian composers Dmitri Shostakovich and Sergei Prokofiev and Jewish composers Mieczyslaw Weinberg and Mikhail Gnesin all managed to weave Ashkenazi Jewish folk music into their compositions, in spite of anti-Semitic repression under Stalin's rule.  This evening's program explores specific pieces with Jewish elements by these composers.  Colorado Chamber Players musicians offer spoken program notes.
Program:
Overture on Hebrew Themes, Sergei Prokofiev
Piano Quintet, op. 11, "Requiem", Mikhail Gnesin
Excerpt, Three Pieces for Solo Clarinet, Igor Stravinsky
Intermission
Excerpt from String Quartet no. 4, op. 83, Dmitri Shostakovich
Piano Quintet, op.18, Mieczyslaw Weinberg

2016-2017 CONCERT USHERS
This is a great way to meet and greet Orchestra concert attendees-many of them orchestra families but also people who are new to DSAO performances. Once signed up (CLICK HERE), you will be on a contact list for our House Manager Julie Padilla to coordinate availability for each concert.
2016-2017 FUNDRAISING
In addition to the auction opportunities, there are many ways big and small to assist DSAO, and we have great fundraising opportunities that only take a bit of time but have a big impact. Please reply to this email if you wish to assist with fundraising.
No contribution is too small.  Every minute of volunteer time is valuable and appreciated.
---
4th Annual Fiddle Competition
Sponsored by
Colorado Elks and American Furniture
CLICK HERE for more information
Colorado violinists in grades 3rd to 12th are invited to participate in three grade categories.
A non-refundable $10.00 registration fee is required in order to participate. This needs to be sent along with the registration form (see attached). Make your check out to "Colorado Elks Association." The registration fee and form must be received by September 30, 2016.
Mail your form and check to: Ken McIntosh, 8989 W. 14th Avenue, #405-South, Lakewood, CO 80215.
Contact Ken McIntosh at kenmcintosh@idcomm.com or 303-234-0469 for the music and sound files.

DSAO  SCHEDULE 2016/17
Friday 10/7 Orchestra Concert 7:00 PM  Concert Hall
Sat. 10/8 Orchestra Concert 3:00 PM Concert Hall
Thursday  11/17 Chamber Music Concert 7:00 PM Concert Hall
Saturday 12/10  Orchestra Concert  7:00 PM Concert Hall
Sunday 12/11 Orchestra Concert 3:00 PM Concert Hall
Saturday 1/21  Full Orchestra Concert 7:00pm Concert Hall
Sunday 1/22   Full Orchestra Concert 3:00pm Concert Hall
Friday March 3 7p  L'Histoire du Soldat Concert Hall
Saturday March 4 3p and 7p   L'Histoire du Soldat  Concert Hall
Friday 3/10 Orchestra  Concert 7:00 PM Concert Hall
Saturday  3/11 Orchestra Concert 3:00 PM Concert Hall
Friday 4/28    Chamber Concert 7:00 PM  Concert Hall
Friday  5/12     Disney/Pops Orchestra  Concert 7:00 PM  Concert Hall
Sat.     5/13   Disney/Pops Orchestra Concert  7:00 PM  Concert Hall
Sunday 5/14   Disney/Pops Orchestra Concert  3:00 PM  Concert Hall
Complete Forms for off-campus activities
 Please note the Power of Attorney and Consent for Emergency Care forms, and a copy of the medical insurance card must be completed and turned in for each student any off-campus overnight trip/event, even those events where parents are in attendance.  The Power of Attorney form requires both parents to sign and is required to be notarized. You may find a notary at your local bank, or you may contact either Tracy Holt in the main office or Linda Vliet in the counseling office and ask if they can notarize for you.  Both parents must be present to sign if not already completed. Please date both forms for the entire school year so you only have to do this once.  Otherwise you have to complete both for all trips/events.  These forms are available on the DSAO website  (Click Here).  Please print, complete, have notarized and drop off in the orchestra forms box in the orchestra room.
For students who have medical conditions or who take medications (including over the counter medications), you need to contact the school nurse for the current school year forms for the trip (Please see forms link on website for these forms).